Infused Coffee Lover + Denver
With my love for coffee, lattes, tea, and anything in-between, I was inspired to curate a concept board based on the rich flavors of coffee and drinkable sweets. I have always loved a neutral palette, mixed with lush textures and modern shapes.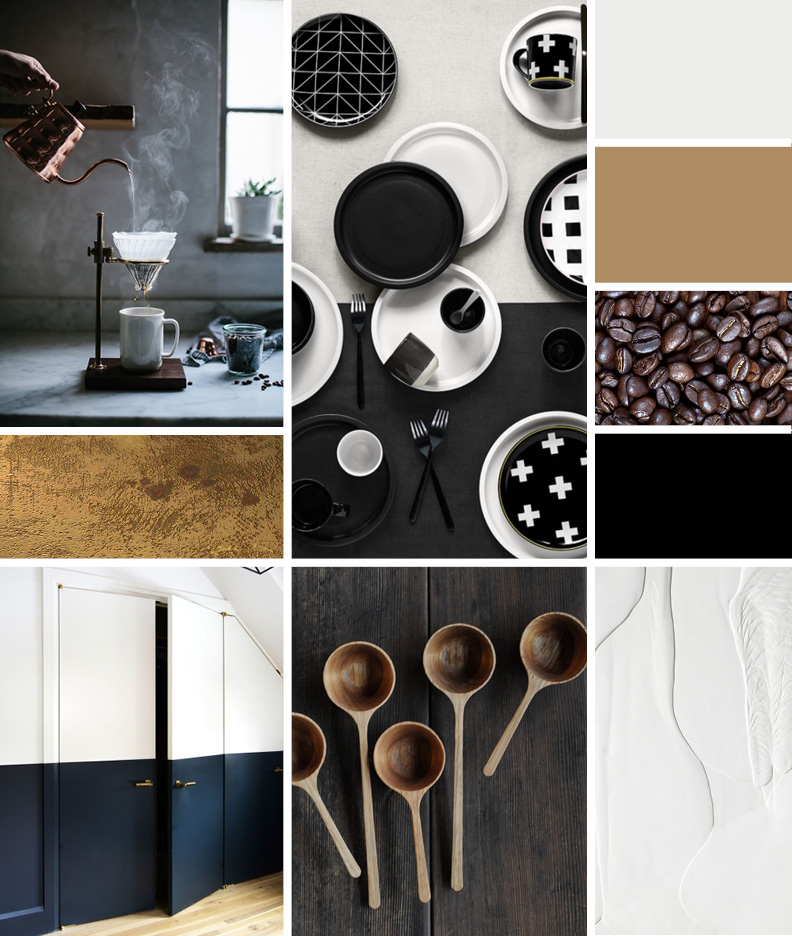 Mood: dreamy, dark moods, steamy, rich, earthy
Palette: various shades of neutral tones from deep, warm browns to creamy whites and from navy blues to details in gold. Also include various textures – hard, soft, matte, glossy, smooth, etc to give the neutrals depth and diverse shades of color.
...you can find me propped up in a coffee shop here in Denver. Why you might ask? Well first, I'm a millennial and its a thing we do - so I've read. Plus, my addiction to coffee hasn't had any adverse side effects yet and it helps me adjust to being a morning person when necessary. It's like a "happy morning award". Coffee? Yes, please! Mostly though, I try to keep work and home as separate as I can. Yes, I do a ton of work in my personal place of rest and relaxation, but when possible I love to sneak out and enjoy one of my favorite, computer friendly environments.
Taking this week's COFFEE concept board as direction, here are a few finds that are coffee infused plus just a small list of my favorite places in Denver. I'll be using a few of these ingredients for a cocktails down the road. Just search "coffee" and you are bound to find more delicious things!
Ninkasi Noir: Noir blends two signature brews of the Pacific Northwest: coffee and beer. This coffee milk stout combines roasted malts with smooth cold brewed coffee from Stumptown Coffee Roasters. A subtle sweetness from milk sugar (lactose) makes this beer reminiscent of the most satisfying cup of joe; distinctive and delectable.
Grind Espresso Shot: Medium-roasted Colombian Arabica beans carefully blended with smooth Caribbean Rum, for a finely balanced espresso spirit that can be mixed with almost anything.
Novo Coffee, Caphill – @novocoffee
Coffee is commonplace, yet a truly great cup reveals a complex process. We roast coffees early in the week in our vintage Vittoria machines (fun fact: one of them is powered by a Ferrari motor).We deliver the coffees to some of Colorado's finest independent restaurants, coffee shops, and natural grocers promptly after roasting. We believe coffee is more than a commodity, and we are always striving for constant improvement in search of a delicious cup. While we take coffee seriously, we firmly believe in not taking ourselves too seriously, as evidenced by impromptu ping pong tournaments, plasma cars, and a fridge full of local microbrews.
Wash Perk – @washperk
Wash Perk loves its customers, community, coffee, photos and the planet. We hope to offer a pleasant environment with quality products, while minimizing harm in our little corner of the world..
Purple Door Coffee, Five Points – @purpledoorcoffee
Purple Door Coffee is a specialty espresso bar and coffee shop in Denver, Colorado that employs teens and young adults who have been homeless and want to leave homelessness behind.
Nixon's Coffee House, Englewood – @nixonscoffeehouse
Nixon's mission is to be space for the community to connect, to create a unique customer experience with excellent service in a loving and caring atmosphere, and to provide a safe place for each guest. Nixon's Coffee House is your home away from home and you're guaranteed to feel it the moment you walk in the door.