Content Creation | The Block Distilling
This collaboration started when a friend of mine (and another distillery, surprisingly) recommended The Block Distilling Co. It always impresses me how word of mouth can quickly connect you to others and spur such great ideas. So if I can be an advocate for connecting people with new places, let this be a testament to why you should pop over to the RiNo district in Denver. Because stepping inside The Block Distilling Co., sipping on some delicious cocktails, and to taking a bottle home with you, will not disappoint.
The instant you walk through the door, you are greeted with beautiful interior design. As you will quickly find out, most of the interior was custom fabricated by one of the owners. The space is full of matte black textures, crisp white fixtures, brassy geometric details, and lounge-styled seating to make you feel right at home. While the vertical space can make you feel small, the colorblocked painting scheme, draws your attention back down to the main focal point - the bar!
As described by one of the owners, their branding and bottle design all plays a vital role in telling their story. From the original building being call The Block to the large black painted block that encases the bar and from the wooden block that tops the bottles to the logo and graphic design, they covered every detail, and then some.
The Spirits
After I took all that in, it was time to get to the main act - their spirits! And to say it best:
"The Block Distilling Co. does things the hard way. The long way. Taking raw ingredients, using industrial equipment, blending culinary and chemistry-like methods to create artful, unapologetic spirits. It's not the only way, but it's our fucking way." - The Block
They have 3 flavors bottled and ready to go: their signature Vodka, a spicy Autumn Gin, and a bold citrus Summer Gin. Each one is full of deep and distinct flavors. A Spring Gin will be released soon (full of floral flavors) and a Winter Gin will be barreled for release later in the year.
Autumn Gin
Unapologetic - Spicy - Transforming
To really let this Autumn Gin shine, I whipped up a simple gin and tonic - one you can easily replicate at home. This cocktail isn't your classic gin and tonic though, but a full-flavored cold weather version. The Block Distilling Co. created their Autumn Gin with fall spices such as: cardamom, cinnamon, peppercorn and juniper - and boy, it packs one flavorful punch!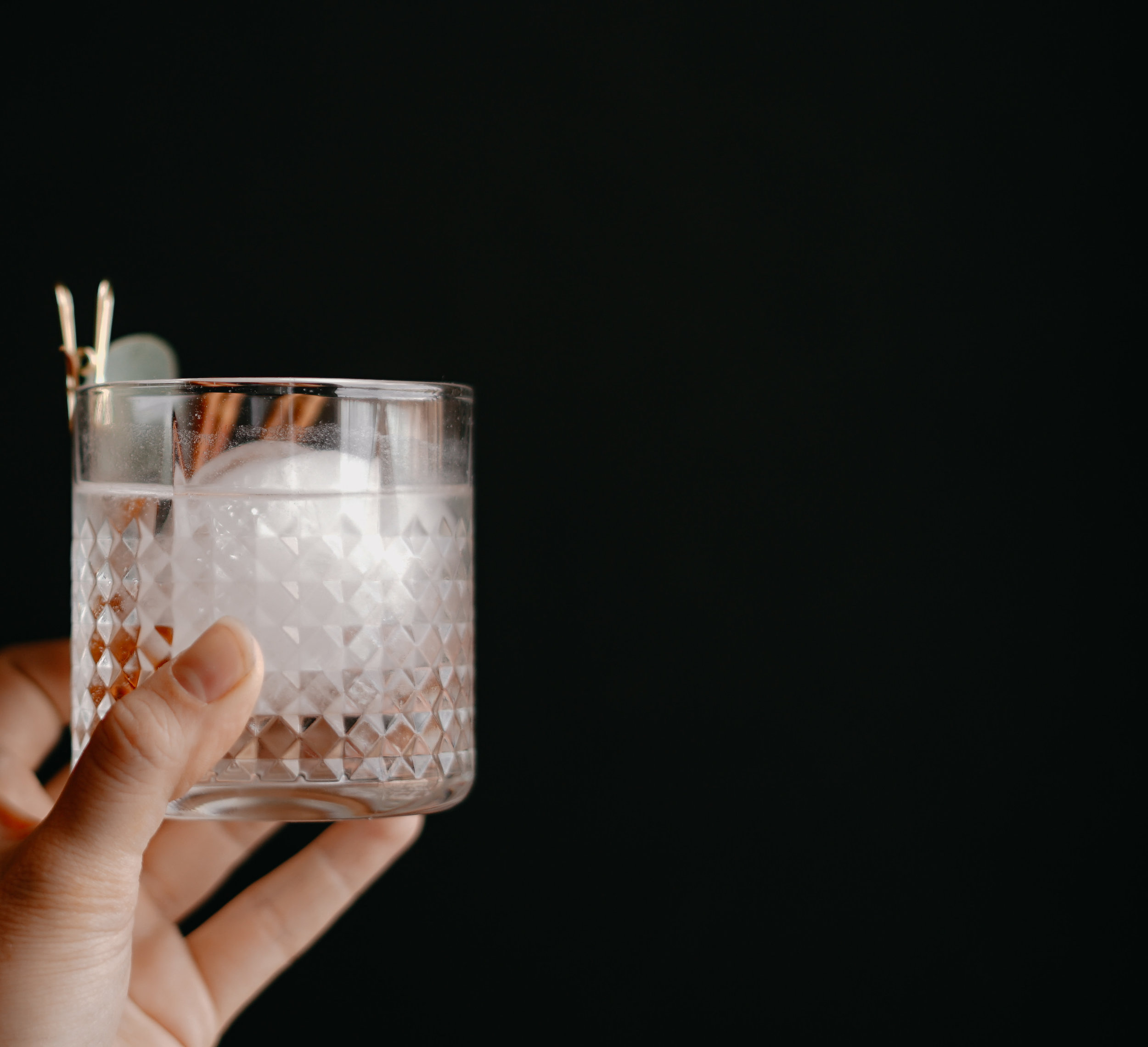 2 oz The Block Autumn Gin
4 oz tonic water
1-2 cinnamon sticks
1 large ice cube
+ Add ice and cinnamon sticks to chilled glass.
+ Pour gin into the glass.
+ Add tonic water to the glass and stir before
drinking.
But wait - Change it Up?
Keep it simple OR to add a bit more sweetness and color, freeze brewed tea into ice cube trays. I tried and enjoyed both Honey Vanilla Chamomile and Rooibos teas.
Check out The Block Distilling Co to shop all their spirits or visit them at their Distillery in Denver's Art District, RiNo. I highly encourage it!